Sip & Sizzle – May 2014!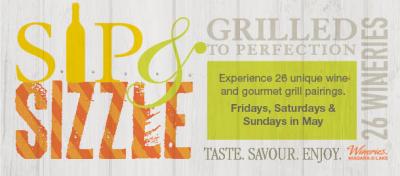 Spring is finally here and BBQ season is almost upon us!
Why not join us on Fridays, Saturdays & Sundays in May for the BRAND NEW event here in Niagara on the Lake..
"Sip & Sizzle"
Each of the 26 participating wineries will pair a unique, gourmet grill inspired food with one of their amazing VQA wines!
To make sure you can enjoy all of the amazing food & wine that is offered thoughout this event Grape Escape Wine Tours are an official "Designated Driver" partner!
Transportation services include;
Return Transportation from Brockamour Manor in Niagara on the Lake
Grape Escape Tour Guide with you thorugh-out the day
Planned route to your requested wineries to ensure you get to as many as you can!
Additional tastings at any of their partner wineries (subject to availability on the day)
Pricing;
$59 + Tax per person (Niagara on the Lake pick up locations) Price is for transportation only
$10 per person discount on these prices on Fridays & Sundays!!
We can also purchase your "Sip & Sizzle" Touring Passes and bring them out with your Tour Guide to save you the trouble! The Touring Passes are $43 + Tax per person.  Please let us know at the time of booking if you would like us to purchase them for you!
Take a look through the delicious pairings for 2014 below….
BETWEEN THE LINES
2013 Rosé
Grilled Pork Encrusted with Herbes de Provence on a Crostini

PALATINE HILLS ESTATE WINERY
2012 Gamay Noir Rosé
Hickory Smoked Pulled Pork with Grilled Tortilla and Garlic Aioli

CATTAIL CREEK ESTATE WINERY
2011 Estate Series Chardonnay Musqué
Grilled Stuffed Apricots

PELLER ESTATES WINERY
2012 Private Reserve Gamay Noir
Vine Smoked Lake Perch Wrapped in Wild Boar Bacon

CHÂTEAU DES CHARMES
2012 Cabernet Sauvignon, Estate Bottled
Cabernet Sauvignon Marinated Grilled Flank Steak with a Sour Cherry Marmalade 

PILLITTERI ESTATES WINERY
2012 Pinot Grigio
Grilled Pineapple Served with Gelato di Carlotta's Coconut Gelato

COYOTE'S RUN ESTATE WINERY
2012 Cabernet Merlot
Mesquite Grilled Chicken Chipotle Antojito with an Avocado Drizzle 

PONDVIEW ESTATE WINERY
2012 Cabernet Franc Rosé
Chili Spiced Beef Skewer on Toasted Quinoa, Cilantro & Sunflower Seed Salad with Cranberry and Buttermilk Dressing

DIAMOND ESTATES – THE WINERY
2013 FRESH Moscato
Honey Glazed Grilled Shrimp & Pineapple Skewer 

RANCOURT WINERY
2009 Noble Rouge
Beef Slider topped with Red Wine Honey Mustard and a Fresh Vegetable Relish

HINTERBROOK ESTATE WINERY
2013 Rosé
Smoked Balsamic Mennonite Sausage topped with Crisped Parmesan Asparagus Spears

RAVINE VINEYARD ESTATE WINERY
2011 Sand and Gravel Cabernet Franc
Charcoal Grilled Lamb Spiedini

 INNISKILLIN WINES
2012 Niagara Estate Meritage
"Market Grill" Ontario Pork Slider, Smoked Poblano Relish, Black Cumin Slaw

REIF ESTATE WINERY
2012 "The Empress" Chardonnay
PEI Blue Mussels, 'Grilled and Chilled' with Dill, Garlic and Shallots 

JACKSON-TRIGGS NIAGARA ESTATE WINERY
2012 Grand Reserve Sauvignon Blanc
Grilled Salmon Tataki, Charred Mushroom Ponzu, Puffed Rice, Cucumber

RIVERVIEW CELLARS ESTATE WINERY
2012 Merlot
12-Hour Smoked Pulled Pork on Brioche     
 

JOSEPH'S ESTATE WINES
2009 VQA Chenin Blanc
Grilled Tomato and Goat Cheese Tart

SMALL TALK VINEYARDS
2012 Faux Pas
Pizza on the Grill, Chef's Choice, Vegan Option.

KONZELMANN ESTATE WINERY
2012 Shiraz
Ontario Venison & Pancetta Slider finished with Caramelized Onions 

SOUTHBROOK VINEYARDS
2012 Cabernet Franc Rosé
Cabernet Franc Smoked Flank Steak, Grilled Marc's Mushrooms, Charred Tomato Vinaigrette

LAILEY VINEYARD
2011 Chardonnay
Grilled Pork Belly with Wild Leek and Local Honey

STRATUS VINEYARDS
Tollgate Fumé Blanc 
Grilled Asparagus with Olive Oil and Monforte Feta Cheese

MARYNISSEN ESTATES WINERY
2013 Riesling
Grilled Sea Scallop Skewer with Grapefruit and Vanilla Gastrique 

STREWN WINERY
2012 Gewurztraminer Terroir 
Grilled Vegetable Trio: Smoky, Blackened, Spicy

NIAGARA COLLEGE TEACHING WINERY
2009 Dean's List Pinot Noir
Balsamic Marinated Grilled Ontario Asparagus Wrapped with House Cured Maple Bacon

TRIUS WINERY AT HILLEBRAND
2012 Trius Riesling
Pork Pastrami Sausage with Riesling Sauerkraut
Call us now to reserve your accommodation & wine tour!
905-468-5527
Brockamour Manor (circa 1809)